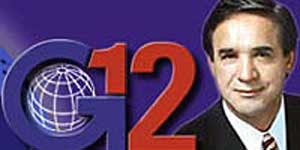 The fol­low­ing state­ment was drafted by the Chris­t­ian and Mis­sion­ary Alliance Churches of the Philip­pines Com­mit­tee on Doc­trine and Polity (CODAP) on the G12 movement.
Obtained by permission.
The CAMACOP Com­mit­tee on Doc­trine and Polity met for the first time on Sep­tem­ber 20, 2011 under the aus­pices of the Divi­sion of Gen­eral and The­o­log­i­cal Edu­ca­tion (DGTE) and upon the express instruc­tion of the Exec­u­tive Bishop to dis­cuss a mat­ter that now presses itself against our churches, even as it has led to many dis­tress­ing con­tro­ver­sies and divi­sions in other evan­gel­i­cal denom­i­na­tions and churches in the Philippines.
We refer to the Colom­bian G12 Move­ment of Pas­tor Cesar Ramirez Castel­lanos.
Because of the urgency of the sit­u­a­tion, mem­bers of the Com­mit­tee reached a con­sen­sus to issue a state­ment that will deal with the broader issues occa­sioned by the onslaught of the G12 move­ment and rec­om­mend to the National Board of Trustees spe­cific courses of action to address the chal­lenges it raises to our bib­li­cal and denom­i­na­tional heritage.
Mem­bers agreed that the state­ment will not as of yet deal with the spe­cific con­texts in which it may have taken root in some of our very own Alliance churches but will instead address the imme­di­ate and urgent doc­tri­nal and hermeneu­ti­cal excesses of this new reli­gious move­ment that has already taken hold of so much of evan­gel­i­cal Chris­tian­ity from North to South.
First, we appre­ci­ate the good inten­tions of the move­ment: the stress on strong lead­er­ship and the devel­op­ment of good lead­ers for the movement's small groups, the design for small groups as a place for nur­ture, the desire to reach out to many, the empha­sis on rig­or­ous train­ing for mem­bers of the move­ment , the recog­ni­tion of prayer as essen­tial to the life of believ­ers. We do not deny that this move­ment – even across dif­fer­ent coun­tries and con­texts – has seen tremen­dous numer­i­cal growth in churches that have adopted its methods.
No doubt, these are some of the big things that attract many pas­tors and church lead­ers to the movement.
Nev­er­the­less there are fea­tures of the G12 Move­ment that raise for us flags of alarm, par­tic­u­larly because they con­tra­dict the teach­ing of scrip­ture itself as well as under­mine the vital­ity of our denom­i­na­tional her­itage; numer­i­cal growth by itself is not a jus­ti­fi­ca­tion to upend bib­li­cal teach­ing, nor is it a true mea­sure of suc­cess and faith­ful­ness to God's call. More often than not, numer­i­cal growth only masks under a veneer of appar­ent min­is­te­r­ial suc­cess the ter­ri­ble toll it has exacted on truth and relationships.
Our state­ment clus­ters the issues on the G12 Move­ment around two main themes, which we dis­cuss below:
On the Apos­tle­ship of the 12 and the Super-Apostleship of Pas­tor Cesar Ramirez Castellanos
The G12 Move­ment draws its name from the 12 apos­tles of Jesus Christ; But ignor­ing scrip­tural war­rants for church lead­er­ship patterns,Castellanos claims the time has come to end all other eccle­si­as­ti­cal modal­i­ties, whether Pres­by­ter­ian, con­gre­ga­tional, Epis­co­palian or Dioce­san, in favor of this lead­er­ship of the 12, with him as its Super-Apostle.
This new move­ment of the Spirit, accord­ing to him, requires noth­ing less than the abo­li­tion of estab­lished struc­tures of churches of what­ever Chris­t­ian her­itage or denom­i­na­tion. This, accord­ing to Castel­lanos, is the "new wine­skin" being revealed by the Holy Spirit to the present time.
In denom­i­na­tional terms, Castel­lanos rejects the lead­er­ship of pas­tors, elders, dea­cons and dea­conesses, and would have these yield to a ver­ti­cal struc­ture of lead­ers or apos­tles, who, using multi-level mar­ket­ing tech­niques, lord it over the peo­ple – the mem­bers of their groups of 12 people.
The move­ment assumes a New Age-like man­tle with its absolute insis­tence on the num­ber "12" as the rule of faith and life: as a leader, your group has to be of 12 mem­bers and noth­ing less, because that is what – accord­ing to Castel­lanos – the Scrip­ture demands.
More­over, the so-called apos­tles or group lead­ers exer­cise fright­en­ingly total­i­tar­ian pow­ers, as the struc­ture and sys­tem of the G12 Move­ment requires absolute obe­di­ence to lead­ers from followers.
Its very name opens the lead­er­ship struc­ture of the G12 Move­ment to abuse. It exhibits cul­tic ten­den­cies in this regard, as mem­bers of a group of 12 orga­nized around a leader are expected to sur­ren­der to the dic­tat of the leader, who exer­cises his or her lead­er­ship accord­ing to tried-and-tested mind manip­u­la­tion tech­niques. It can­not be gain­said that this is the secret to its suc­cess – the absolute obe­di­ence demanded of mem­bers to pro­duce results accord­ing to the "vision."
Yet this fea­ture of the G12 lead­er­ship approach is unde­ni­ably a mark of a cul­tic move­ment and it must be exposed for what it is.
We reject this New Age numerol­ogy of the G12 as a dis­tor­tion of scrip­tural teach­ing as well as an utter rejec­tion of our denom­i­na­tional her­itage in the Chris­t­ian and Mis­sion­ary Alliance.
The deifi­ca­tion of the num­ber 12 in the G12 con­sti­tu­tion is arbi­trary and with­out scrip­tural warrant.
The dic­ta­to­r­ial impo­si­tion of the lead­er­ship in the G12 Move­ment is con­trary to the free­dom we have in Christ. It is true that we are called to com­mu­nal life as Chris­tians, but it does not mean that we are to lose our indi­vid­ual iden­ti­ties in group­think. Human dig­nity and the integrity of the indi­vid­ual eschew any view that places a per­son at the absolute con­trol of the community.
The gift of con­science does and will not allow that.
Coer­cion or any manip­u­la­tive tech­nique designed to solicit uncon­di­tional loy­alty of mem­bers is con­trary to Christ's teach­ing on the free­dom of the believer." It is for free­dom that Christ has set us free," said the Apos­tle Paul. "Stand firm, then, and do not let your­selves be bur­dened again by a yoke of slav­ery." (Gal. 5:1, NIV).
In the New Tes­ta­ment, we have the exam­ple of the Bere­ans, who, as scrip­tures says, "were of more noble char­ac­ter than the Thes­sa­lo­ni­ans, for they received the mes­sage with great eager­ness and exam­ined the Scrip­tures every day to see if what Paul said was true." (Acts 17:11).
This scrip­tural pre­cept flies in the face of the G12 Movement's claim that to the lead­ers must be reserved an unques­tion­ing obe­di­ence. We are told to con­tend for the faith that was once for all entrusted to God's holy peo­ple (Jude 1:3), as well as to see to it that we are not swayed by any unsound teach­ing (1 Tim. 6:2–4; 2 Tim. 1:12–14). It is not only the respon­si­bil­ity of lead­ers – but of every believer in Christ – to keep life and doc­trine together.
The Gospel is not sur­ren­der of the intel­lect to machine-like obei­sance; on the con­trary, the Good News of Jesus Christ con­stantly chal­lenges and engages Chris­tians to exer­cise their minds to the fullest with both humil­ity and dili­gence. Indeed, the Lord­ship of Jesus Christ requires no less than the full engage­ment of our whole being to His call to respon­si­bil­ity in all spheres of life.
Thus, we can­not speak of Chris­t­ian respon­si­bil­ity in all spheres of life where a church pro­motes unthink­ing obe­di­ence among its members.
It is not sur­pris­ing that the G12 Move­ment has proven to be divi­sive. Churches and denom­i­na­tions had been rent asun­der because of its mono­lithic struc­tural require­ment. As we write, we hear of many reports from other Chris­t­ian denom­i­na­tions and orga­ni­za­tions that had been wracked by ten­sion and con­flict as a result of the intro­duc­tion of G12 teach­ings and practices.
Castel­lanos does not allow his G12 Move­ment to be placed on top of an old foun­da­tion, which is ironic, con­sid­er­ing that he him­self admits he bor­rowed the essen­tials of his sys­tem from the Korean church started by David Yonggi Cho.
Nei­ther does he allow the use of other mate­ri­als along­side the G12 movement's own mate­ri­als. And the slight­est mod­i­fi­ca­tions are con­sid­ered seri­ous devi­a­tions.
Need­less to say, this cor­ner­stone of the G12 Move­ment con­tra­dicts our con­sti­tu­tion and by-laws as a denom­i­na­tion. If adopted among Alliance churches, it will sup­plant the struc­ture of the Chris­t­ian and Mis­sion­ary Alliance Churches of the Philip­pines as a denomination.
But any move­ment which presents itself to the world as THE ONLY TRUE WAY of doing God's work while those of oth­ers had been doomed to extinc­tion could only be igno­rant of God's work­ing in and through cul­ture through­out his­tory. Indeed, the genius of Chris­tian­ity, as mis­si­ol­o­gists have shown, is pre­cisely its abil­ity to be trans­planted and trans­lated across cultures.
Such a move­ment could only be moti­vated by unbri­dled arro­gance when it asserts that faith tra­di­tions that refuse to abide by its way of doing things are cut off from the glory of God and from the work­ing of his Holy Spirit.
The God we wor­ship is Trini­tar­ian. One of the deep the­o­log­i­cal insights we can glean from the very nature of the God we wor­ship is that the Tri­une God – God the Father, God the Son, and God the Holy Spirit — is our model of unity in diver­sity. Such is the col­or­ful tapes­try of the church – many mem­bers of diverse back­grounds and tra­di­tions, but one body – the mys­tery that has been kept hid­den for ages and gen­er­a­tions, but is now dis­closed to the saints (Col. 1:26).
The exclu­sivis­tic claims of the G12 Move­ment is at worst gnos­tic in char­ac­ter and at best an arro­gant pos­tur­ing that should have no place in any move­ment that con­sid­ers itself Christian.
In other words, the G12 Move­ment is an orga­ni­za­tion that holds itself out to the world as the only access to a "new anoint­ing" from God, with­out which there can be no free­dom from the bondage of sin.
But this is a mock­ery of what Christ did on the Cross for the sal­va­tion of humankind.
On the G12 movement's Stress on Expe­ri­ence and Encounter
Other than the deifi­ca­tion of the num­ber 12, a foun­da­tional teach­ing of the G12 Move­ment is its obses­sion with the so-called gen­er­a­tional curses, the the­ory being that all the mis­for­tunes and ills of a person's life spring from some curse or other that had been passed on to him or her from his or her ances­tors. The G12 Move­ment holds that these gen­er­a­tional curses are inflicted even on believ­ers, so that as a result, peo­ple suf­fer poverty or remain in the grip of sin.
And the high­light of its high-intensity and highly-secretive Encounter with God Retreats (EGR) is the renun­ci­a­tion of these curses in often bizarre rit­u­als that seemed to have been drawn straight from New Age prac­tices rather than from Scrip­ture itself. These prac­tices include astral pro­jec­tion, visu­al­iza­tion, being "slain in the Spirit" and other so-called man­i­fes­ta­tions of a power encounter with the Holy Spirit.
A Chris­t­ian who has not been to an EGR for this pur­pose must expe­ri­ence one, because true con­ver­sion only takes place there. Prior to the spir­i­tual encounter a believer meets at an EGR, all of his or her Chris­t­ian expe­ri­ences do not count in the equation.
At the core of this empha­sis on renun­ci­a­tions is a doc­trine of spir­i­tual war­fare which teaches that prior to a believer's detailed list­ing and renun­ci­a­tion of all of his or her known sins, sal­va­tion is never com­plete for him or her and Satan can still smug­gle his min­ions into his or her life; there is no full for­give­ness of sins from God, there is no full sal­va­tion, which comes only, along with inner heal­ing, upon repen­tance, the renun­ci­a­tion of curses, in rit­u­als exe­cuted at an EGR.
It is also here where adher­ents are asked to throw away any and all ves­tiges of their for­mer lives as mem­bers of churches with their own denom­i­na­tional tra­di­tions and prac­tices. It is here where they are intro­duced to new ways of doing liturgy and worship.
Most bizarre of all of these spir­i­tual exer­cises is that even God him­self, because He can be a source of trauma, must be forgiven!
The G12 Move­ment adds another layer to the fin­ished work of Christ on the Cross and teaches that with­out these renun­ci­a­tions, cou­pled with the "new anoint­ing" through its Encounter of God Retreats, they can­not enjoy new life, indeed they can­not par­take of the Super­nat­ural DNA of Jesus Christ himself.
The "new anoint­ing" is cru­cial to pros­per­ity promised to every adher­ent of the G12 Move­ment – a fea­ture com­mon to all move­ments iden­ti­fied with the unbib­li­cal teach­ings of the "Word of Faith Move­ment", of which Castel­lanos is part.
It appears that the G12 Move­ment is geared towards a sophis­ti­cated orga­ni­za­tion requir­ing a cer­tain level of cul­tural and eco­nomic cap­i­tal. It is aimed at a par­tic­u­lar lifestyle where the Movement's inner dynamic finds its true rhythm. This inner dynamic works well with the movement's vision of suc­cess, all too often mea­sured in terms of the excess of mate­r­ial goods, inas­much as its "new anoint­ing" is a nec­es­sary con­di­tion for a Christian's mate­r­ial prosperity.
But these beliefs per­pet­u­ated by the move­ment are a seri­ous dis­tor­tion of the his­toric and bib­li­cal doc­trine of the Redeem­ing work of Jesus Christ; these are also seri­ous dis­tor­tions of the doc­trines of jus­ti­fi­ca­tion and sanc­ti­fi­ca­tion, which are the doc­tri­nal hall­marks of the Ref­or­ma­tion as well as of the Chris­t­ian and Mis­sion­ary Alliance.
What the G12 Move­ment teaches is another gospel – a teach­ing that St. Paul called anath­ema in his let­ter to the Gala­tians. This is a false gospel that rejects the redeem­ing work of Christ (Gal. 1:1–9).
Thus, it is urgent that a warn­ing be issued to all our churches in the Philip­pines about the teach­ings of the G12 movement.
Signed: Novem­ber 23, 2011
Mem­bers:
The Rev. Dr. Bishop Reniel Joel Nebab, D.Min (Asbury), incum­bent CAMACOP Pres­i­dent and Exec­u­tive Bishop
The Rev. Dr. Rodrigo D. Tano, PhD (Bay­lor), Bishop and for­mer CAMACOP President
The Rev. Dr. Jose Dalino, PhD (PCU), Bishop and for­mer CAMACOP President
The Rev. Dr. Averell U. Aragon, Th.D (Hon). NEM-Division of Gen­eral and The­o­log­i­cal Education
The Rev. Dr. Jonathan Exiomo, Th.D.(ABGST),President, Alliance Grad­u­ate School
The Rev. Dr. Isa­ias Catorce, D.Min (Asbury) Direc­tor for Asia, Ambas­sadors for Christ
The Rev. Dr. Geryll Nil­los, D.Ed. (AGST),Former NEM-Division of Gen­eral and The­o­log­i­cal Education
Atty. Romel Regal­ado Bagares, LLB (UP), MA (VU-University Ams­ter­dam, cum laude), Trustee, Alliance Grad­u­ate School