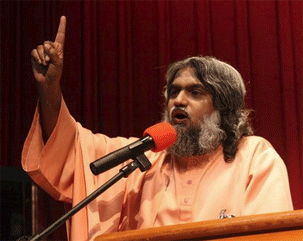 More than a month ago, "Prophet" Sadhu Sel­varaj proph­e­sied of a com­ing new dis­pen­sa­tion coin­cid­ing with the Jew­ish Yom Kip­pur due on Octo­ber 8, 2011. It's avail­able at http://www.jesusministries.org/.
You can down­load the tran­script of his prophe­cies here.
He asked Chris­tians to pray and fast in order to self atone for their day-to-day sins say­ing that only the orig­i­nal sin was atoned for by the death of the Lord Jesus Christ. Any­way, the fol­low­ing are ten "prophe­cies" that we should test (1 John 4:1).
If they will all come to pass, they should give him the cred­i­bil­ity that he needs to be firmly rec­og­nized as today's prophet of God. How­ever, should any one of them fail, we should all come to a real­iza­tion that he is a false prophet who is not be revered (Deuteron­omy 18:20–22).
Today is Octo­ber 3, with barely 5 days to go before the alleged "Final Dis­pen­sa­tion" what are these "prophecies"?
New level of the demon­stra­tion of signs and won­ders in the church — all mem­bers of the church will be a mir­a­cle worker. Not just the pas­tor and not just the lead­ers are in mind here. He meant that every­one in the Body. Yes! Includ­ing you he said, "not [just] the pas­tor, not just the evan­ge­list, not just the apos­tle, not just the teacher, not just the prophet that God is going to use might­ily but every com­mon believer."
Angelic activ­ity will be com­mon place – he says that you will be see­ing angels after Octo­ber 8. And you will be receiv­ing mes­sages from them.
Your church will be glo­ri­ous – he says that even with­out the preach­ing of the Word, "as soon as peo­ple come within the atmos­phere of your church, they're going to drop and fall to their knees, put up their hands and cry to be saved."
There will be a great increase in "rev­e­la­tional knowl­edge of God and the things of God" he said. And he based it on Rev­e­la­tion 10:7 when the sev­enth angel blows the trum­pet then the mys­ter­ies of God "will be made known to the world." Should this thing hap­pen, we should rejoice because we may have already skipped the 6 other trum­pets, see Rev­e­la­tion 8:2ff.
You will see the spir­i­tual realm – again not just the pas­tors or the lead­ers of the church will see the spir­i­tual realm your eyes will see it too. After your ten day fast, expect to see the spir­i­tual realm unfold before your very eyes. But you must believe it oth­er­wise you won't see it.
Every­one will become prophets – he based this on Joel 2:28–29 where it says, "I will pour out My Spirit upon all flesh" mean­ing to kids even before the age of puberty and those above and beyond. He said it did not hap­pen dur­ing the time of Peter, this time, "all flesh" means every­one. Includ­ing the unbe­liev­ers? We shall see.
Your life is going to change – he meant to include your des­tiny, your future, and your entire pur­pose is going to change. Hope­fully for the better.
You will even see the Lord Jesus stand­ing beside you. I don't know for sure but I think it will hap­pen before the rap­ture (1 Thes­sa­lo­ni­ans 4:17), or before the gath­er­ing of the elect by the angels (Matthew 24:31), or before the "Man of Sin" is made known (2 Thes­sa­lo­ni­ans 2:3). We shall soon find out.
Expect every "com­mon per­son" will say, "We saw the Lord!"  My only con­cern is if we can still apply the warn­ing of the Lord in Matthew 24:23 when this becomes prevalent.
Lastly, expect to skip the part in Acts 1:11 where the angel told the dis­ci­ples: "This same Jesus, which is taken up from you into heaven, shall so come in like man­ner as ye have seen him go into heaven." That being the case, we shall prob­a­bly skip the Parou­sia — when every eye sees Jesus com­ing from clouds of heaven with power and glory (Matthew 24:30) because this time every eye will prob­a­bly see Jesus beside them already
Post­script [Feb. 20, 2012]: I think it is clear since the first writ­ing of this arti­cle that Sadhu Sun­dar Sel­varaj is a false prophet sim­ply because not one of his date-specific prophe­cies listed above came to pass. The more rel­e­vant ques­tion now is: what are we now going to do about it? Absolutely noth­ing, expose it or just ignore his blun­der and wait for his next prophe­cies and instructions.
In 1 Jn. 4:1, we read "test the prophets." This instruc­tion is not just for pas­tors, teach­ers, bish­ops or for the spir­i­tu­ally mature but for every Chris­t­ian. Here's why:
His let­ter addressed to  "My dear chil­dren..." (1 Jn. 2:1, 12, 13, 18; 2:28; 3:2, 7, 18; 4:4; 5:21)
His let­ter was also address to "Dear friends..." (1 Jn. 2:7; 3:2, 21; 4:1, 7, 11)
His let­ter was also addressed to "dear chil­dren" (1 Jn. 2:12, 13, 18; 3:7, 18)
He also wrote to "fathers" (1 Jn. 2:13, 14)
He also wrote to "young men" (1 Jn. 2:13, 14)
He instructed them "to love one another" (1 Jn. 2:10; 3:10, 11, 18, 23; 4:7, 11, 21)
He also instructed them to let "any­one lead you astray" and "live in the truth" (1 Jn. 1:6; 2:26, 27; 3:7)
The instruc­tion to test every prophet, true or false, is an indi­vid­ual duty. It is not just for pas­tors or for bish­ops. John's audi­ence or the intended recip­i­ents of his let­ter is that broad that his epis­tle is one of those cat­e­go­rized as "catholic" i.e., uni­ver­sal. His instruc­tions are for "you who believe in the name of the Son of God." There­fore test­ing the prophet is imper­a­tive to all Chris­tians and it is as impor­tant as the instruc­tion to "love one another" and to "not let any­one be led astray." And so, at least for me, the obvi­ous choice is to expose this thing. What about you?
For more info on the claims about Sadhu Sun­dar Sel­varaj, click 
here
 (offsite).
Respect the gift of prophecy (1 Thes­sa­lo­ni­ans 5:20) but reject the false ones.
Despite his failed prophe­cies, Bishop Dan Bal­ais and the Inter­ces­sors for the Philip­pines con­tinue to rec­og­nize him as a prophet. In the
Eagle Chris­t­ian Online
(last accessed March 12, 2012), Dan Bal­ais wrote
"Prophets Sadhu Sun­dar Sel­varaj, Vin­cent Selk­vaku­mar, Neville John­son and Robert Misst released sim­i­lar and com­ple­men­tary prophetic words to the nation clearly spelling out the role of the church in enforc­ing the des­tiny of the nation. In the past three years of intense prophetic prayer gath­er­ings, these anointed ser­vants of the Lord showed to us two oppo­site sce­nar­ios: 1) A destroyed, ruined peo­ple ; 2) A right­eous, pros­per­ous and mis­sion­ary send­ing Philip­pines! The prophetic direc­tive is to con­tend; to fight for our destiny!!!