The Inter­ces­sors For the Philip­pines (IFP) does it again! Another prophetic fail­ure. This time thanks to IFP Prophet Robert Misst. See this prophetic blun­der explained by Bishop Dan Bal­ais in his blog at https://eaglechristianonline.wordpress.com/2012/05/03/worship-instead-of-warship/
Cou­pled with the prophetic warn­ings of prophet Robert Misst who spoke in the just con­cluded 23rd National Prayer Gath­er­ing (NPG) that the bird from the East (Isa­iah 46:11) will try to swoop down upon this dis­puted ter­ri­tory in the West Philip­pine Sea, the Lord strongly put in the hearts of inter­ces­sors to pray for this dan­ger loom­ing in the hori­zon. We sim­ply have no naval war­ships to repulse this bla­tant Chi­nese aggression.
I attached a map here that shows China is North West of the Philip­pines. If Isa­iah 46:11 is about China and the Philip­pines, the prophecy should have said, "Birth of Prey from the North or West or North West." You don't need to be a the­olo­gian to know this. North, South, East and West direc­tions are taught as early as grade school. You don't even have to ask the map­ping experts in the Philip­pines whose web­site if you want to know is http://www.namria.gov.ph/.
By the way, the Igle­sia Ni Cristo (1914) has already claimed Isa­iah 46:11 as their pet verse as part of the Igle­sia Ni Cristo (1914) gospel. They have always explained that the bird of prey from the East (mizrach) was their founder Felix Y. Man­alo, with the East (mizrach in Hebrew) for some weird rea­son was the Philippines.
This time how­ever, Robert Misst, rec­og­nized as one of the prophets of Inter­ces­sors for the Philip­pines in the recently con­cluded 23rd National Prayer Gath­er­ing has applied the bird of prey to China.
His­tor­i­cally, this prophecy has already long been ful­filled by Medo-Persian King Cyrus. It says, "From the east..."  because Per­sia is located East of Israel. It also says, "I sum­mon a bird of prey; from a far-off land, a man to ful­fill my pur­pose." Because God used a pagan King to bring back Israel to their land after being held cap­tive in Baby­lon. It also says, "What I have said, that will I bring about; what I have planned, that will I do." Because God is sov­er­eign and no one will be able to thwart His plans and pur­pose. Sev­enty (70) years have passed and its time to bring back the exile to Israel, see Jere­miah 29:10. Now, think about it very care­fully. If this prophecy applies to China then it fol­lows that it is God's will that China will be able to con­quer part, if not the entire Philip­pines because, it says, "What I have said, that will I bring about; what I have planned, that will I do." Unless they want to turn God into a liar again.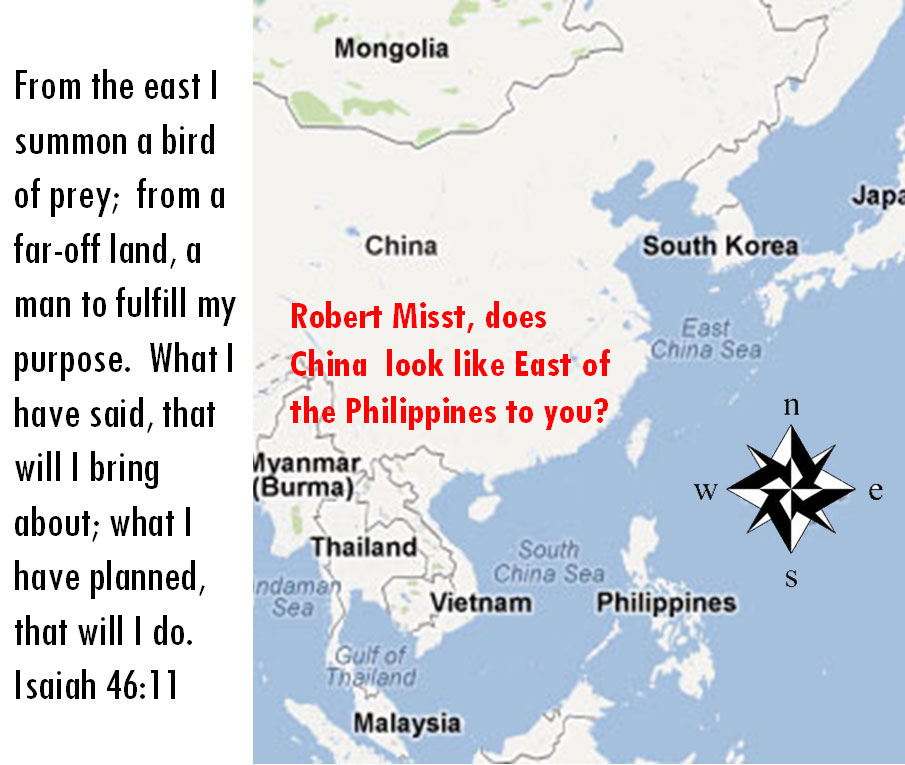 Post­script: Here's a demon­stra­tion of the actual ful­fill­ment of Isa­iah 46:11. (Take note of the direc­tion of Cyrus' con­quest). Per­sia was East (mizrach) of Baby­lon where the rem­nant of Israel was held cap­tive. Cyrus' con­quest extended from the bor­der of India to the Mediter­ranean sea. Cyrus' home­land was also located East of Jerusalem. Source: Strictly Gen­teel.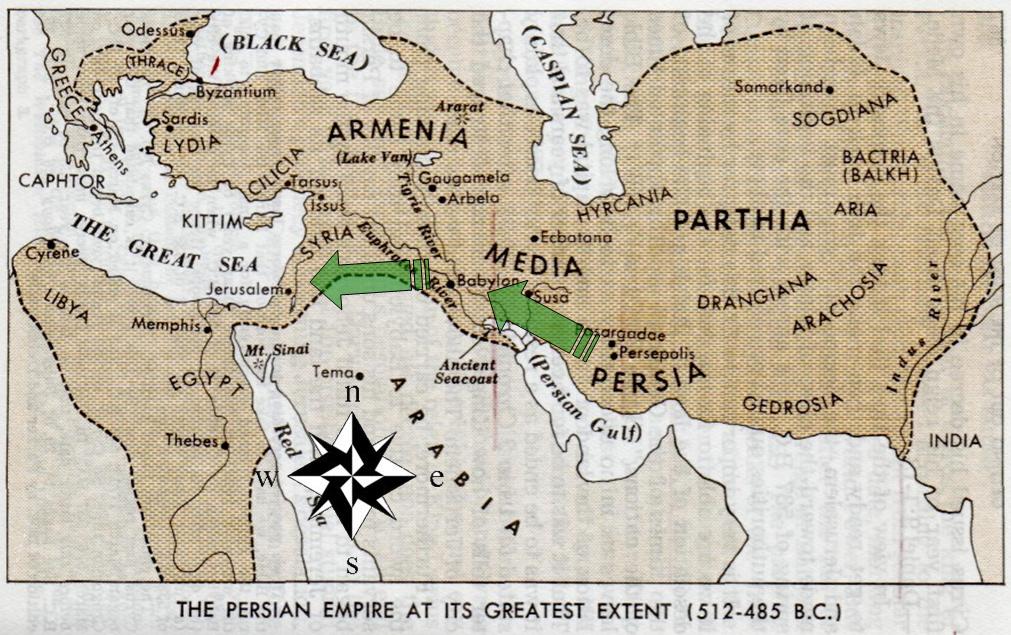 And here's the pagan depic­tion of Cyrus the Great as a four-winged guardian, indeed a bird of prey swoop­ing in con­quest not only Asia but also Europe. Source: Wikipedia